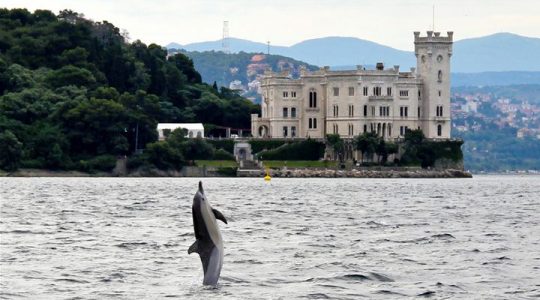 27 July 2022
SNORKELING OR SUNSET BOAT?
A museum full of wonders and mysteries… at the bottom of the sea!
An incredible world awaits us beneath the surface of the sea, made up of fascinating creatures, a treasure trove of plant and animal biodiversity that must be seen at least once in a lifetime.
Are you ready to discover the wonders of the underwater world? Trust the WWF's staff of biologists and naturalists,
You will be provided with snorkelling equipment and accompanied to the Marine Protected Area: here you will be able to observe the hundreds of animal and plant species that populate it, swim among shoals of salps, breams and damselfish, come across the rarest corvinas or manage to spot organisms that might escape unseen eyes.
The proposed itineraries unfold below the coast, at the foot of Miramare Castle, along a shallow underwater path between the rocks and a few metres from the shore.
When: every Friday from 1/7 to 9/9 at 4 pm and every Sunday from 3/7 to 11/9 at 11 am
Where: from the beach of the Protected Marine Area of Miramare (BioMa) Duration: 2.30 hours
No. of participants: 6 pp per group/guide, up to a maximum of 2 simultaneous groups (12 pp with 2 guides) per day
Cost to the public: 25 euro/person
Tourists staying in Trieste for at least 1 night will be charged € 10.00.
Equipment: the compulsory equipment to participate (mask with snorkel, fins and neoprene wetsuit) is provided free of charge by the organisation, with the exception of the mask with snorkel, due to anti-Covid protocols (possibly to be updated as the health situation develops).
Soft lighting, silence: the sea speaks
(Sunset Boat Excursions)
An excursion at sunset aboard the new electric boat of the Miramare MPA, ecological and silent, respectful of the environment, the sea and the organisms that populate it, an opportunity to "tiptoe" through the waters of the oldest of Italy's marine reserves, to be told by WWF staff about the rich biodiversity hidden above and below the water level and to enjoy the evocative spectacle offered by the white towers of Miramare Castle reflected in the sea at night. And stretching from Grignano towards Santa Croce, the nature excursion will also offer participants the opportunity to observe and "read" the landscape of the Trieste coastline and the sustainable human activities that make this area a UNESCO-recognised Biosphere Reserve, from the mussel farms that dot the sea to the agricultural production on the pastini made on the steep slopes of the Karst ridge.
When: every Saturday from 09/07 to 24/09 – 6.30 pm in July and August – 6 pm in September
Where: departure from the port of Grignano
Duration: about 2 hours
Number of participants: max 12 pp
Cost to the public: 40 euro
Tourists staying in Trieste for at least 1 night will be charged € 15.00.
Go back to the blog